Why buy a gift from Hearst Magazines?
We've made finding wonderful gifts easy (for everyone on your list). Whether they're a trendsetter, home lover, foodie, fitness fanatic, or the outdoorsy type, we've got the perfect gift that will be delivered straight to their door. Whether it's Mum, Dad, Aunties, Uncles, Sisters, Brothers, friends or your favourite neighbour - this year show them you know them with a gift as thoughtful as you are and enjoy that wonderful feeling of knowing you've got it right.
Free UK Delivery
Buy direct from the publisher for the lowest price and best deals
Shop brands that have been trusted for decades and loved by millions
Present your subscription in a special Hearst gift box for just £2
Send a personalised e-card to your gift recipient
Risk-free gifting – cancel or switch magazines at any time
How does a gift subscription work?
Step 1.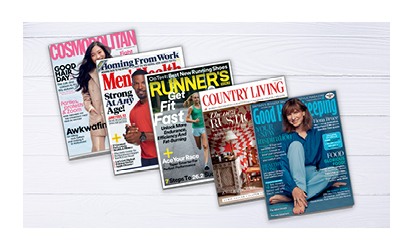 Choose a magazine they'll love
Select the 'I'm buying a gift' option above the price box and complete your order
Step 2.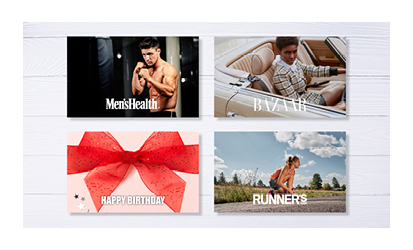 Deliver the exciting news
Send a free personalised eCard which can be scheduled to be sent on the day of your choice
Step 3.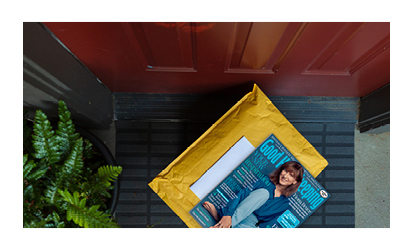 We deliver happiness to their door
Sit back and relax knowing your thoughtful gift will deliver moments of escapism month after month
1. What is a magazine subscription?
A magazine subscription is a regular delivery of your favourite magazine. Each magazine will publish a new issue either weekly, monthly, bi-monthly or quarterly. When you subscribe to a magazine this ensures you receive every issue of the magazine delivered straight to your door, without the need for you to go to the shops and buy it. There are also other benefits including receiving the magazine before it is out in the shops, free UK delivery and saving money on the cover price.

2. What is a gift subscription? ...

When you purchase a magazine subscription as a gift there is a delivery option to select called 'I'm buying as a gift'. This will allow you to send the magazine subscription straight to the person you are buying the gift for. You can also create a free, personalised e-card during checkout to deliver the exciting news and schedule it for your chosen date or order a gift box for them to open on the big day.

3. When will the first issue arrive?

When you subscribe you will be given a choice to select your start issue. You will also receive a free digital issue straight away, once your purchase is complete to read while you wait for your first issue.

4. What is a direct debit subscription?

If you choose to subscribe to a magazine using a Direct Debit payment method this ensures you will not have to renew the magazine at the end of the subscription. This means, the next payment for the subscription will come out of your bank account automatically. All our magazine subscriptions are risk-free, and you can cancel them at anytime through your account online or by contacting us here.

5. What is an E-card?

When you buy a gift subscription, you can create a free personalised E-card to deliver the exciting news. This is an electronic greetings card that can be emailed straight to your gift recipient. Once you complete your purchase you will have the opportunity to create the E-card and personalise it before entering the email address of your gift recipient to send it to. We can send it immediately or at a date of your choosing.

6. What if they don't like the magazine that I choose?

If for any reason your gift recipient does not love their magazine subscription, they can easily cancel the subscription or switch to another Hearst magazine at any time, by getting in touch with our customer service team – so you can gift with confidence, risk-free!

7. What is a Hearst Gift Box?

Our beautiful Hearst gift box allows you to present your gift magazine subscription to your recipient before their first magazine issue arrives. We will deliver this gift box to you with a card inside that you can personalise with a message for them.

For other questions, please visit FAQ here.
Best Sellers
The nations most-loved reads and our go-to favourites, you're sure to find something everyone will enjoy all year long.
For the Fitness Fanatic
Gift workout ideas from top PT's, delicious meals and nutrition tips from our magazines and special editions, the perfect gifts to motivate those looking to achieve their health and fitness goals.

For the Trendsetter
Perfect for those who like to keep up to date with our style guide's, fashion, plus our limited-edition beauty boxes.

For the Home Lover
Home is where the heart is, and nothing beats sitting down with a cuppa and taking some time away from the screens with our inspiring home and lifestyle gifts.

For the Beauty Lover
Whether they're after hassle-free grooming, a new beauty routine, or to discover industry-leading favourites, our limited-edition Beauty and Grooming boxes have something for everyone
Travel enthusiasts have missed out on their getaways this year so rediscover the world with us in 2021 and embark on financially protected celebrity-led escapes, cosy hotel breaks and bucket-list adventures in the UK or beyond, when you're ready to explore.